Indonesia appears ready to lift its coal export ban just a week after sending shock waves across world markets declaring that it is suspending all export shipments for a month. As the world's largest exporter of steam coal, Indonesia is slated to deliver at least 35 tons of coal to major customers such as China, India, Japan and South Korea in January.
The Indonesian Ministry of Energy announced on December 31 that domestic coal supplies were running out Suspension of all export permits for the month of January to allow time to rebuild stocks in the domestic plants and while the government accesses the long-term situation. The government said it was necessary to make sure they did not suffer from domestic power shortages. Experts expressed concern about China, which imports large quantities of coal and turned away from Australian coal in a political dispute in 2020. However, China and South Korea reportedly had large stocks, but Japan immediately urged the Indonesian government to lift the shipping ban.
Location services reported large gatherings of bulk carriers anchoring off Indonesia's major export port on the island of Borneo. According to some estimates, there were up to 100 ships idling offshore by midweek while VesselsValue released tracking data showing a dramatic decrease in bulk departures from Indonesian ports. But they also led to a dramatic increase in the number of domestic coal shipments.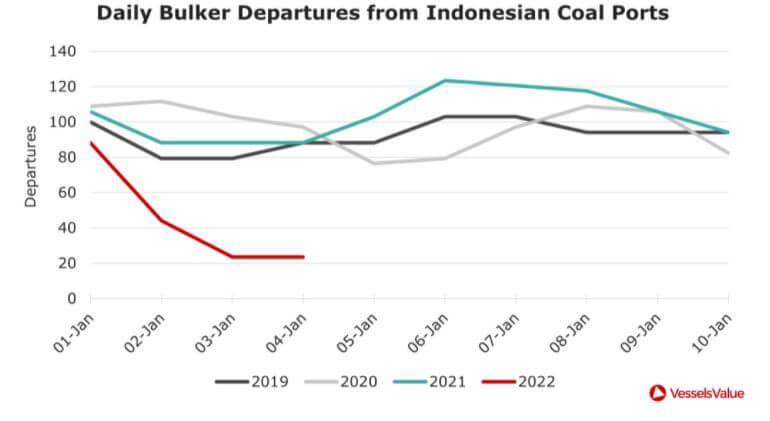 CNBC Indonesia quoted the Minister for Maritime and Investment Affairs as saying that the immediate crisis is over. He said domestic supplies had been replenished to meet the immediate needs of the energy industry. However, it was reported that discussions were ongoing on longer term solutions to maintain consistent coverage of domestic needs.
However, reports are divided on whether Indonesia actually lifted the export ban. Reuters says talks are ongoing between the government and the coal miners who intend to resolve the issues and hopefully end the export ban by the weekend or earlier this week. However, according to reports at Lloyd's, the government has tacitly started renewing export licenses that were suspended earlier this week.
Global markets remain volatile, with prices in China rising nearly 10 percent on the first day of trading after the ban. By the middle of the week, however, prices had already been reported to have stabilized based on reports that it would be a short-term imbalance. All eyes remain on the Indonesian government, which is waiting for an official resolution and when deliveries will resume. It is unclear how long it will take to clear the large backlog of anchored ships in the coal export ports.